by Okfans
How to Get Verified on Instagram in 2022 - 6 Simple Steps
Nov 07, 2022
If you want to know how to get verified on Instagram, you've come to the right place. In this guide, we'll tell you how to apply for that coveted blue badge and provide some tips to help you qualify.

Instagram verification is the process of getting a blue checkmark badge that tells other users on the platform that an account really belongs to the user, artist, brand, or organization it represents.

You've probably seen plenty of verification badges around. As with Twitter, Facebook and, yes, Tinder, the little blue checkmarks are meant to indicate that the platform has confirmed the account in question is trustworthy, or at least they are who they say they are.

These badges are designed to make the real accounts stand out, so that Instagram users can be sure they're following the right person or brand. They're easy to spot in search results and on profiles, and they convey authority.

Who can get verified on Instagram?
Anyone can request a verified badge on Instagram. However, Instagram is notoriously picky (and in many ways mysterious) about who actually gets verified. So, if you're running an account that's right on the cusp of "notable," how do you know if you meet the criteria?
Just because you have a blue checkmark on Twitter or Facebook, for instance, doesn't guarantee you'll get one on Instagram.
Instagram is blunt, saying that "Only some public figures, celebrities, and brands have verified badges on Instagram." In other words: "only accounts with a high likelihood of being impersonated."
Here is what we do know about eligibility.
First, you must adhere to the network's Terms of Service and Community Guidelines. On top of that, your account must meet each of these criteria:
Authentic
: does your account represent a real person, registered business, or brand? You cannot be a meme page or a fan account.
Unique
: only one account per person or business can get Instagram verified, with exceptions for language-specific accounts.
Public
: private Instagram accounts do not qualify for verification.
Complete
: do you have a complete bio, profile picture, and at least one post?
Notable
: this is where things get subjective, but Instagram defines a notable name as one that is "well-known" and "highly searched for."
If you're relatively confident you meet these criteria, or you just feel like rolling the dice, it's time to go ahead and verify your Instagram account.
How to get verified on Instagram in 6 steps
The verification process on Instagram is actually quite simple:
Go to your Instagram profile and tap the hamburger icon in the top right corner
Tap Settings
Tap Account
Tap Request Verification
Fill in the application form.

Your legal name
Your "known as" or working name (if applicable)
Select your category or industry (for example: blogger/influencer, sports, news/media, business/brand/organization, etc.)
You also need to submit a photo of your official government ID. For individuals, that could be a driver's license or passport. For businesses, a utility bill, an official business document, or tax filings will do.

Tap Send.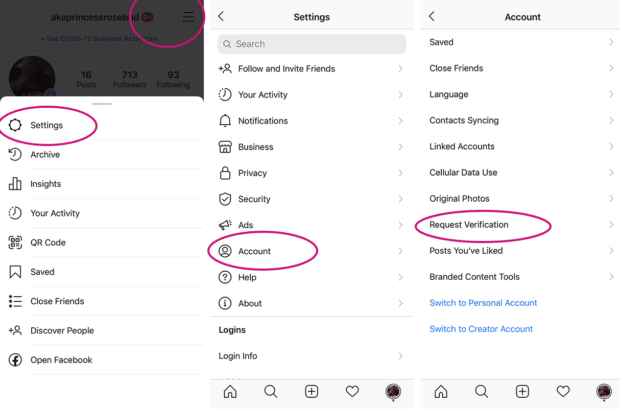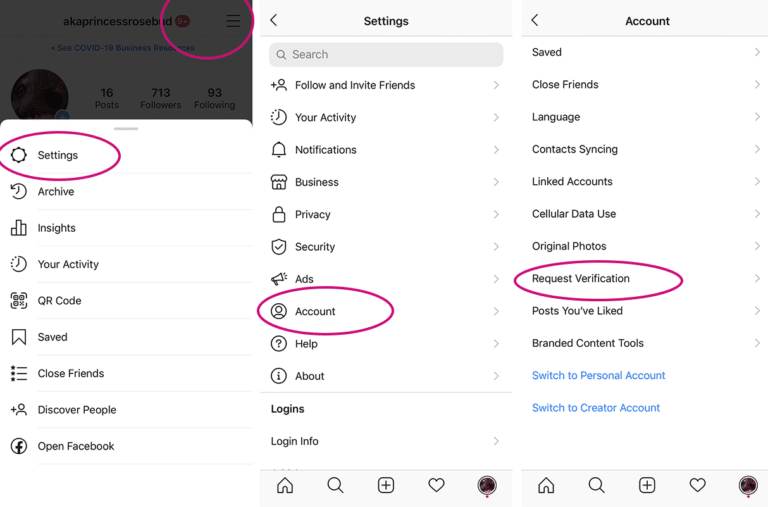 According to Instagram, after their team reviews your application, you'll receive a response in your notifications tab. Because of historical and ongoing issues with scammers, Instagram is very clear that they will never email you, ask for money, or otherwise reach out.
Within a few days or a week (some say it can take up to 30 days), you'll receive a direct yes or no. No feedback or explanation.